---
This is a non-pack away provision based within the Stoke Hammond Community Centre, we are open 8:30-3:00 Monday through Friday.
For any enquiries or to book a tour please contact us at;
stokehammond@buttonspreschools.co.uk
Or alternatively ring us on;
07495369320
Facebook Page: Buttons Preschool at Stoke Hammond
---
Buttons Stoke Hammond
Stoke Hammond Community Centre
Bragenham Side
Stoke Hammond
MK17 9DB
---
Fay - Manager
I am a qualified Level 3 Practitioner and I have been working in childcare for 21 years.
I enjoy helping children to learn, grow and become school ready, I am very excited to be part of the Buttons team.
Hi, I'm Claire - Deputy Manager
I'm very excited to have joined Buttons. I have worked in Early Years Childcare for 8 years and I hope to continue my professional development in the near future.
I have 3 children of 13, 10 and 26 months.
For me, the best part of working with Early Years Children is the variety of personalities you get to know, and the reward of being part of their Learning and Development.
Rhiannon - Forest School Lead
I started at Buttons as a student back in 2013 and then in September 2014 I started the childcare apprenticeship, I am now a Level 3 qualified member.
I am also Level 3 forest school trained, helping children extend their learning outdoors in a natural environment.
In my own time I volunteer with girl guiding, where we take trips and teach the girls new skills.
Louise - Designated Safeguarding Lead
I am a qualified Level 3 Practitioner, I have been working with children for 10 years. I am a mummy to 2 children.
I enjoy doing lots of activities and getting messy, I also like to sing and dance, I'm bubbly and fun.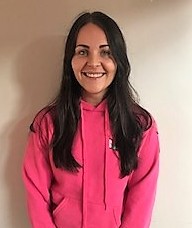 Bryony -
Hello my name is Bryony and I am passionate about working with children. I am currently studying to become a primary school teacher at the University of Northampton.
Alongside my degree I have been working at Buttons since September 2017, and loving every second.
Christine -
Hello my name is Christine, I have come back to childcare after being away for 10 years, I love the interaction with young children and watching them develop and grow in confidence.
Jocelyn -
I am a Level 3 qualified Practitioner , I also have 3 children of my own. I am very excited to be working at Buttons as I find working with children and extremely rewarding experience.
I love watching them build new skills knowing that I can be apart of their journeys.